Customized metal nameplates
Labels for product branding or product information
Focks Labels specializes in a wide range of customized and high quality metal labels and nameplates in various metals, sizes and finishes for industrial purposes and for product branding.
We can provide nameplates for machines and other devices, barcode labels for warehouses, name badges for network meetings, inspection stickers for equipment, brand labels for furniture and lots of other purposes. Each product is completely customized. We will give you expert advice on the most appropriate materials, printing techniques, layout and mounting.
Read more about nameplates for:
Nameplates for product branding
The appearance of a nameplate on a product must fit the corporate or brand identity by choosing the right metal, a particular finish or a special shape. Focks Labels offers you a very wide range in materials, techniques and mounting methods. There are a lot of possible combinations and we will offer you the most creative solution, to create the best label that fits your product, in large or small quantities.
Our nameplates for product branding: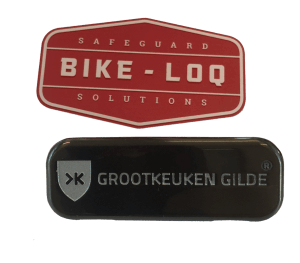 Nameplates for industrial purposes
Nameplates and control panels for equipment have to be long lasting and fit all kinds of technical, hygienical and safety requirements. These labels have to be solid and abrasion resistant. Some nameplates have to withstand severe weather conditions (sunlight, seawater) or chemicals. Focks Labels has been supplying clients with these high end nameplates for years.
More information on industrial nameplates: